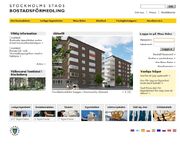 The bostadskö (accommodation queue) is one of the most peculiar inventions of the Swedish housing market.
Since flats may not be priced after market rules (see hyresreglering), some other system had to be invented. The currency in that system is waiting time: you register in the system and for every day you are registered you have a higher chance.
Procedure
[
]
The procedure is usually as follows:
You register in the system and start acquiring waiting time. Usually that is done nowadays via a website.
New flats are advertised on this website.
You can apply for appartments that are advertised. If you are desperate this means that you apply for everything which comes up. But be careful: many queues limit the number of concurrent applications. Be also aware that some queues may punish those who turn down a flat too often. So don't apply for anything which you wouldn't accept later on.
The applicants with the longest waiting time are invited to a

visning

(showing of the flat).
You go there.
All those who show up are put on a short-list (sorted by waiting time, of course).
Sometimes you are asked to confirm that you are still interested (oh, yes, you are!).
Then the people in the administration start to find a possible tenant, starting with number one on the list and working their way through. One requirement is a decent salary.
If it is your turn and your tax record shows no income, you have to prove that you are able to afford the place.
If you pass that last step you are the new tenant.
Important: It doesn't matter if you are currently looking for a flat or not. You need waiting time, so you should sign up in any case and to every queue in the region.
List of Bostadskös in the Stockholm Region
[
]
Municipality
Name and Link
Personnummer
Annual fee
Other important information
Stockholm and a lot of other communes in the region
Stockholms Stads Bostadsförmedling
Yes (or samordningsnummer)
225 SEK
Minimum age 18

Botkyrka

Botkyrkabyggen
No
No
Only available to tenants of Botkyrkabyggen or other persons living in the Botkyrka Municipality

Ekerö

Ekerö Bostäder
Yes
No
Tenants of Ekerö Bostäder and Ekerö citizens have priority. Deletion from the system after 12 months inactivity. Exclusion from the system if offers are turned more than three times.

Haninge

Haninge Bostäder
Yes
No
Minimum age 18. Separate priority queues for tenants of Haninge Bostäder and students.

Järfälla

Järfälla Hus
Yes
No
Uses Stockholm's bostadskö as agency. However, if you work in Järfälla or already live there, you can acquire access to a privileged queue.

Norrtälje

Roslagsbostäder
Yes
No
Minimum age for application 18, registration possible from 15. Your account will be locked if you don't answer offers and has to be unlocked by a phone call.

Nykvarn

Nykvarnsbostäder
Yes
No

Nynäshamn

Nynäshamns Bostäder
Yes
No

Österåker

Armada Fastighets AB
Yes
235 kr
Signing up only via regular mail. You find the form under Bostad->Blanketter->Bostadsansökan.

Södertälje

Telge Bostäder
No
No

Bostadbums

(last minute) available.

Sigtuna

Sigtunahem
No
No
This company even advertises in the subway - probably not so difficult to get something.

Sollentuna

Sollentunahem
Yes
No
Occasional login required.

Sundbyberg

Förvaltaren
Yes
No
Minimum age 18. You have to log in at least once year.

Tyresö

Tyresö Bostäder AB
Yes
No
Those who already have a flat of Tyresö Bostäder get 1.5 points in the queue for every day, while all others get one point.

Upplands-Bro

Upplands-Brohus
Yes
No
Minimum age for the queue is 16. You have to log in at least every 6 months.

Upplands Väsby

Väsbyhem
No
200 SEK
Minimum age 18. Steady financial situation required. Certain types of dogs are not allowed.

Värmdö

Värmdö Kommuns Bostadsförmedling
Yes
200 SEK
Communal agency which runs the bostadskö for Värmdö Bostäder and (possibly) other landlords. Minimum age 18.
Hints
[
]
Here are some suggestions:
As soon as you have a personnummer, register in all bostadskös you can get. Most of them are free anyway.
Bostadskös with a fee may be of special interest. Stockholm's own bostadskö is always worth a look, but especially the smaller ones with a fee may be of interest. Many people don't bother to pay money for a chance in communes seemingly so far off. So you might have a shot there.
Log in occasionally to all bostadskös while you are looking. Otherwise you might lose your place in the queue.
Register as often as you can, The more you book, the better your chances are. Many bostadskös have limitations of how many flats you can book.
Keep track of your bookings. Be careful - you may be thrown out of the bostadskö if you don't react on offers.
Go to every showing of the flat (

visning

) you are invited to. In many cases you will lose your chance when you don't show up.
Book always a league above you. As long as you are not on the verge of panic, try to book flats which require more waiting time than you have. In many cases those with a lot of waiting time have booked several interesting flats so that only the most interesting goes to them. Sometimes they lose interest or turn down the offer so that it is moved on to the ones further down on the list. So place number one on the list may guarantee you priority, but to be on place two or three gives you the chance to get something you usually would not get.