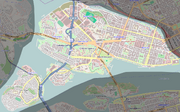 Kungsholmen stadsdelsområde (Kungsholmen burough) is one of the central parts of Stockholm. It encompasses the island of the same name as well as the two Essinge Islands, Stora Essinge and Lilla Essinge.
The word Kungsholmen is ambiguous. In general it refers to the island of Kungsholmen. However, until the early 20th century only the eastern parts of the islands were settled - and this part calls itself Kungsholmen, too. That borough Kungsholmen however has only administrative relevance. Nobody would call e.g. Stora Essinge a part of Kungsholmen.
Parts
[
]
Kungsholmen
[
]
Kungsholmen
[
]
The eastern part of the island of Kungsholmen is called confusingly simply Kungsholmen. It is the oldest settlement on the island and nowadays a rather posh area, however not as extreme as in Östermalm or Norrmalm.
Stadshagen
[
]
Stadshagen is the western part of the island. Until recently it was a mostly industrial area of the city, not very scenic as the motorway bridge of Essingeleden is above it. However, there is construction activity going on and it is to become a big residential area with shops nearby. Public transport is mostly provided by the blue line of the subway. The new tram Spårväg City is to be extended to this city quarter until the end of the decade.
Essinge Islands
[
]