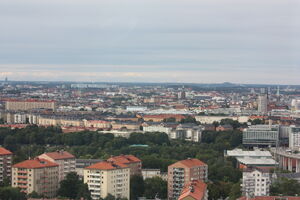 Welcome to the Stockholm Accommodation Wiki
[
edit
|
edit source
]
Finding a room, an appartment or a house in Stockholm is very difficult when you move to the city.
Prices are high and the rules of the accommodation market may seem bizarre at first.
This wiki is supposed to collect and provide valuable information to all those who come to Sweden's capital to live here, temporarily or permanently.
Stockholm is Scandinavia's largest city and attracts people from all of Sweden and the whole world. During the last decades the influx of people has always been larger than the construction activity. Thus the housing situation gets gradually worse: real estate prices rise and rental appartments are more and more difficult to get.
Think small: if you come from a country where spaceous flats are easily attainable you should lower your expectations. For inner-city flats you should be extremely happy with about 25 square meters per person, much smaller, shared rooms are not unusual.
Extend your range: inner-city accommodation is mostly expensive and comes with other drawbacks. The average stockholmer lives further away in less touristy and posh places. Public transport is very extensive in Stockholm. So take places in consideration which are further away.
Be quick: When money or queue time is not on your side, you have to be quick whenever a new ad comes up.
Search parallely: there is no single road for success. Try all ways you can find.
Take whatever you can get: when you are new to the city, take every opportunity you can get as there might be no second one anytime soon.
Expect to move: getting a decent place in this area is like a career. You start out small and improve on every step. So you have to move a couple of times until you have reached a sufficient level.
Or simply: lower your standards, be quick and try everything. But be aware: Don't pay anything in advance if you are not sure who you are dealing with.
Of course you should try every thinkable way, but when you are about to move to Stockholm from somewhere outside of Sweden, you should start at Andrahand. You shouldn't look for a permanent solution, but for one which gets you through the first months.
Students should also try Studentbostad for exclusive student accommodation. But remember: a huge number of new students comes every summer to Stockholm, and those who come from Sweden have certain advantages. So your primary objective in the months May-September should be to find anything at all.
Most Swedes speak English well. However, the huge majority of websites relevant for the accommodation search is in Swedish.
To use these websites you should learn some terms. A list of relevant vocabulary can be found on the page Swedish Vocabulary.
How language reduces your chances in general is hard to tell. Some landlords may not mind to use a foreign language, but for most of them it will make a difference. To try at least some phrases will certainly meet positive reactions as it shows your willingness to learn the language.
If your English is not good either, you should work on that. Concerns over the ability to communicate at all will reduce your chances significantly.
The rental market is strictly regulated. Therefore it follows its very special rules.
The rent of an appartment is not subject to the market in Sweden. Instead there is the Hyresregleringen which fixes prices independent of the market forces of supply and demand.
Since the price may not decide who gets an appartment, it is mostly done by the so-called bostadskö (accommodation queue): those who have signed up to the queue can apply for appartments. Those among them with the longest queueing time have the best chance to get it. Most rental appartments are actually in communal ownership or otherwise owned by public company as there can't be made much profit with them. Some queues as Signalisten in Solna actually draw by lot to select distribute accommodation among all applicants, with people already living in Solna having higher chances.
A list of other suppliers can be found under Hyresrätt.
Second-hand appartments ("Andrahand")
[
edit
|
edit source
]
Since appartments are so difficult to get, people try to hold to them as long as possible. Instead of giving up the flat when they move out, they rent out the flat to other people.
In reality, this has created a market which is actually not supposed to exist: Andrahand (second-hand).
Most andrahand flats are rented out not according to the contract. Thus, if the illegal situation is discovered by the house owner, the tenant will be thrown out.
However, second-hand appartments are in most cases the entrance to living in Stockholm. They are often neither reasonably priced nor a long-term option, but the only ones which are available to virtually everyone. And if you are lucky, you may even find a place in a city quarter where you could never afford an appartment under "normal" circumstances.
For further details how to get such an appartment, see Andrahand.
If you are just looking for a room, Inneboende is usually the way to go (except for students). Findroommate is another great option.
It is not like a shared flat in other European countries. In Stockholm this often means that somebody who is so lucky to have an appartment rents out some rooms of it. By this he reduces his living costs.
In reality however it often may turn out that the "landlord" lives for free in his room and his tenants pay the whole rent (and other additional costs). In cases of illegal Andrahand (see above), the "landlord" increases his income by letting the flat to several people and thus making more money than with a single tenant.
Thus, these rooms are disproportionally expensive compared to the regular rents. However, they are still cheaper than a whole appartment.
Students rarely have money or waiting time to find anything on the other parts of the market. Therefore there are special appartments and rooms which are exclusively available to students.
A list of suppliers of such special accommodation can be found under Studentbostad.
Students should also have a look at the Andrahand market for rooms and flats.
If you have some savings you can buy a place.
Due to the market situation (see next section), there are serious concerns for a real estate bubble which might burst. Therefore the formerly very lax requirements have been sharpened. Here are some general conditions:
The bank may give you only up to 85% of the price. You have to bring the other 15% by yourself.
You have to have a clean record when it comes to unpaid bills.
You should preferably be able to show that you had a decent income in the last year. Tax records are public in Sweden, and so the tax return can and will be checked by the bank. It won't show any of your income until the June the year after you earned. So if you haven't been at least for a year in Sweden, you have to provide other reliable information on your income.
In general, unless you have large sums at hand, this is no option for somebody who has just arrived in Stockholm. Banks will give you loans only reluctantly, and you risk serious financial difficulties when your plans don't work out.
The bleak situation on the rental market (and in general) creates a big push towards the real estate market. Especially condominiums have gone up in price far faster than wages rise.
The last 15 years have seen a rise of about 300% (!) in prices while wages have only gone up 50%. On the market for normal houses it is "only" 200%.
People have been able to pay that thanks to
comfortable tax deduction. All interest you pay can be fully deducted from your income, which in fact means that about a third of the interest payments are a gift from the state.
lax bank requirements. Not so long ago it was possible to lend all the money for a flat or a house from the bank. Furthermore, the banks have very low demands when it comes to back payments. Many debtors just make the interest payments but do little or nothing to amortize their debt. Instead they rely on rising prices so that the sale of their flat/house will liquidate their debt.
This system has worked so far, but concerns for a bursting bubble are growing. Currently (June 2011) the expectation of sinking house prices has caused stagnation on the market.
It is difficult to give absolute price standards as they always change. As a rule of thumb you should not expect to get any flat worth having which is cheaper than 1 million SEK. Decent flats cost at least 1.5 million SEK, and houses are much more expensive than that.
Low prices are an indicator that something is wrong. Some typical explanations are:
It is situated at a very unconvenient place, i.e. poor or no connection to the public transport system, long travel times to the city and single lane gravel roads. That is often accompanied with severe problems to get anywhere when the first snow comes.
There is a significant need for renovation.
The cooperative (of a bostadsrätt or radhus) which owns the house may be in a dire financial situation. This requires them to take a very large fee (avgift) to pay their debts. So the costs for the purchase may be low, but the monthly costs will be very high.
On e.g. Blocket you find sometimes (holiday) houses which are ridiculously cheap. This is very often that only the house is for sale but not the land on which it stands. Holiday houses are often prefabricated so that they can be taken apart and transported somewhere else. While this may give you a cheap house, it is worthless without a place to stand on.
Types of real estate you can buy
[
edit
|
edit source
]
The Swedish version of the condominium, called bostadsrätt (accommodation right), is quite different from other countries. You don't actually own the place. Instead you buy a share of a cooperative which owns the whole house. So what you're buying is a club membership and the exclusive right to live in your flat. That's why you may not rent out the place without a permit from the cooperative.
Furthermore the club membership costs a monthly fee (avgift). How much that is depends on the cooperative's financial situation.
Since row houses (radhus) are actually a single building, the same scheme as for the bostadsrätt applies. However, in some cases the members of the cooperative have paid to release their houses ("friköpt"). In that cases a row house is just like a regular house, but of course closer to the neighbouring buildings.
If you are so lucky to afford your own house - or villa as it is called slightly euphemistically in Swedish - you actually own it. So, there is no avgift. But you pay taxes for it.
Holiday House (Fritidshus)
[
edit
|
edit source
]
Statistics say that about 75% of all Swedes have access to a holiday house (fritidshus). So, it is very common, and the distinction between a regular house and a holiday house is not always clear. Many holiday houses are only usable in the summer. But what they almost all have in common is that they are in rural parts of the region. This means: very limited or no connection to the public transport system, almost mandatory to have a car and the roads are in poor shape in the winter. But they are not much cheaper than a regular house. However, many live in such houses permanently.
The Stockholm region, often called Storstockholm (greater Stockholm), is very diverse. There are huge differences between the rural parts and the city. Stockholm city itself does not even cover the densely populated parts of the region. Its borders are in some parts in residential areas so that the division is mostly administrative.
It may be helpful to know about the character of the different parts.
The following listing is ordered by municipality (kommun). Sweden is divided into provinces (län) which are in turn divided into these municipalities. These administrative divisions play a significant role in reality - the rental house market is organized along kommun lines and even the income tax differs from kommun to kommun.
Generally Stockholm province (Stockholms Län) is considered almost identical to the Stockholm region. However, there are some parts of the surrounding provinces which are still in range for everyday commuting. They are also mentioned in the listing.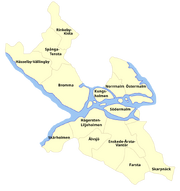 Stockholm itself consists of the following boroughs (stadsdelar):
Inner City (Innerstad): all inner city areas are rather wealthy and densely populated. Single family houses are rare. Instead it is very much like any other big city in Europe. The inner city has excellent connections to the public transport system.
South (Söderort):
West (Västerort):
As one can see there is no East and no North - at these borders other municipalities are directly connected to the city without being administratively a part of it.
Other municipalities of Stockholm province
[
edit
|
edit source
]
Surrounding cities of other provinces
[
edit
|
edit source
]
Gnesta
Bålsta
Trosa
Håbo
Knivsta
Enköping
Community content is available under
CC-BY-SA
unless otherwise noted.